Battlax BT46: The new standard for vintage sport and touring motorcycles
Give your vintage motorcycle the rubber it deserves with the Bridgestone Battlax BT46 – Bridgestone's premier Bias-Ply vintage sport and touring tyre.
The Battlax BT46 is replacing the iconic Battlax BT45.  Since its introduction 22 years ago, the Battlax BT45 has been the go-to tyre for touring.
A thoroughly modern tyre for your classic machine, the new BT46's Bias-Ply design compliments vintage sport and touring motorcycles.
If you remember the tyre technology available when your classic motorcycle was new, you'll be amazed by this modern tyre, especially in the wet!
Its silica-rich construction, including a new compound in the rear, provides performance you never could have imagined.
Best of all, you get all this performance without sacrificing wear life compared to the BT45 tyre.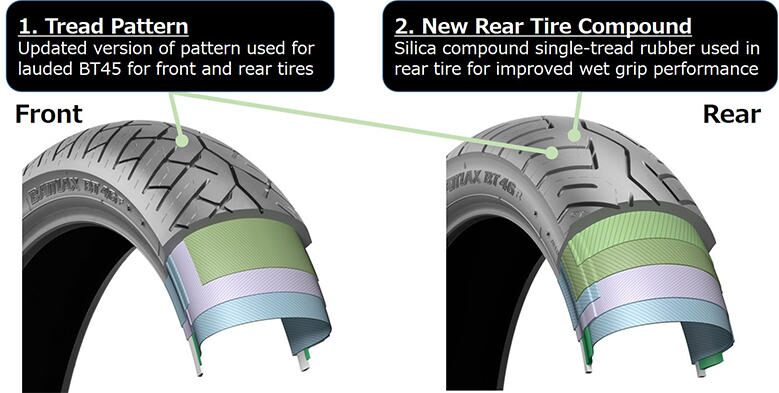 BATTLAX BT46 tyres are the successor to the popular Bridgestone BATTLAX BT45 tyres, which have provided strong support for a variety of riders since their launch in 1998.
Using cutting-edge technologies, Bridgestone succeeded in upgrading the BT45 tyre's wet performance, while maintaining the level of dry handling performance for which BT45 tyres are known, to realize more stable riding on wet surfaces.
Accordingly, BT46 tyres can function on a variety of surfaces, whether riding in town, going on long touring trips, or riding on winding roads.
The BT46 features an inverted V-shape in the front tread pattern, which tackles working forces on the tyre, reduces irregular wear and gives the rider incredible feedback for superior handling.